Don't let the legal stuff stress you out…
I'm on a mission to help make the legal side of blogging approachable for you, so you can stop worrying about lawsuits and fines and get back to blogging and changing the world (and your bank account 😉).
Walking the Walk, Blogging the Blog
Starting in the Personal Finance Space
I've been blogging since 2014 with my first site lessdebtmorewine.com, through that site I've had a guest post published in a book. It also kickstarted a freelance career. I've written for and been quoted in big-name sites like:
Business Insider
NerdWallet
GoBankingRate
Student Loan Hero
The Penny Hoarder
Credit Karma
The Huffington Post
Budgets are Sexy
The Simple Dollar
Smart Asset
The Happy Lawyer Project
The Financial Diet
The College Investor
Student Loan Planner
Rockstar Finance
Lending Point
Putting My Law Degree to Good Use
I started in the personal finance space because I had a ton of student loan debt – law school is pricey!
My passions eventually collided. I started talking about the legal side of blogging – to help bloggers understand that while the legal stuff is important, it doesn't need to be scary or hard.
I started speaking on the topic at conferences and virtual summits including:
Rebel Boss Summit
FinCon
Blogger Breakthrough Summit
But not everyone can attend summits or conferences and I knew this was information all bloggers needed to know, so I started guest posting and working with blogging course creators to provide lessons on the legal side of blogging. Here are some places you can find my writing and teaching:
FinCon Expo (article)
Making Sense of Affiliate Marketing (course)
Making Sense of Cents (article)
Understanding WordPress – How to Navigate Self-Hosted WordPress (free course)
Mommy on Purpose (article)
Do You Even Blog (podcast)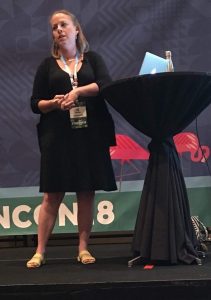 ABOUT LIZ STAPLETON
Liz Stapleton is a lawyer and blogger. A licensed attorney since 2012, and a blogger since 2014, she has spoken at both virtual and in-person conferences, on the importance of legally protecting your blog and business. She is the founder and voice behind Less Debt, More Wine – a personal finance site, ElizabethStapleton.com, where she helps readers understand the legal side of blogging, and the Blogger Breakthrough Summit where she helps bloggers do more in less time while getting better results.
Her writing has been featured on Entrepreneur.com, The Huffington Post, The Penny Hoarder, Budgets Are Sexy, Credit Sesame, and Magnify Money, just to name a few. She has been quoted in articles on Business Insider, Student Loan Hero, and Nerd Wallet.